Image via Roblox Restaurant Tycoon 2
Sort-restaurant tycoon 2 The codes are ready to be served! Are you looking to get into the food service business? Then you're in luck! Design the restaurant of your dreams, prepare dishes from around the world, and keep your loyal customers pumped with the help of these OP Codes!
Each Restaurant Tycoon 2 code listed below unlocks a unique in-game bonus – from loads of money, including cash and diamonds, to exclusive items, these codes have it all! If you're looking for even more freebies, be sure to check this article regularly – we update this list as soon as new codes appear! If you find a code in the work codes section that appears out of date, please let us know so we can remove it as soon as possible. Also note that you will need to enter each code exactly as written or the experience will not accept it.
If you're looking for more Roblox content to browse while you wait for new codes, check out some of our other related code lists, including Roblox Bakery Simulator Codes, Roblox Cooking Simulator Codes, or Roblox My Hello Kitty Cafe Codes.
Restaurant Tycoon 2 Code List
Updated December 13, 2022

Added a new code!
Restaurant Tycoon 2 Codes (Working)
Here is a list of all the codes currently available:
subtoveddev—Redeem for 250 Cash (New)
Snowman—Redeem for 20 Diamonds (New)
switch it on—Redeem for WireFrame lights
Ocean—Redeem for a Dolphin item
razorfishgaming—Redeem for 250 Cash
Restaurant Tycoon 2 Codes (Expired)
These codes are no longer available and cannot be redeemed!
presents—Redeem for 20 Diamonds
squid—Redeem for 20 Diamonds
myp – Redeem for 20 diamonds
dinosaur – Redeem for 20 diamonds
newmap2020 – Redeem for 15 diamonds
bored – Redeem for 15 diamonds
team trees – Redeem for 25 diamonds
Parmesan – Redeem for 10 Cash
Paella – Redeem for 25 diamonds
beverages – Redeem for 20 Cash
ghostly greetings – Redeem for 20 Cash
goldenowl2019 – Redeem for 30 diamonds
Luigi – Redeem for 20 diamonds
chilling – Redeem for 20 diamonds
Snowflake – Redeem for 20 diamonds
fall 2019 – Redeem for 20 diamonds
Redeem Restaurant Tycoon 2 Codes
How do I enter codes in Restaurant Tycoon 2?
Redeeming codes in Restaurant Tycoon 2 is not too difficult! To do so, just follow the steps below.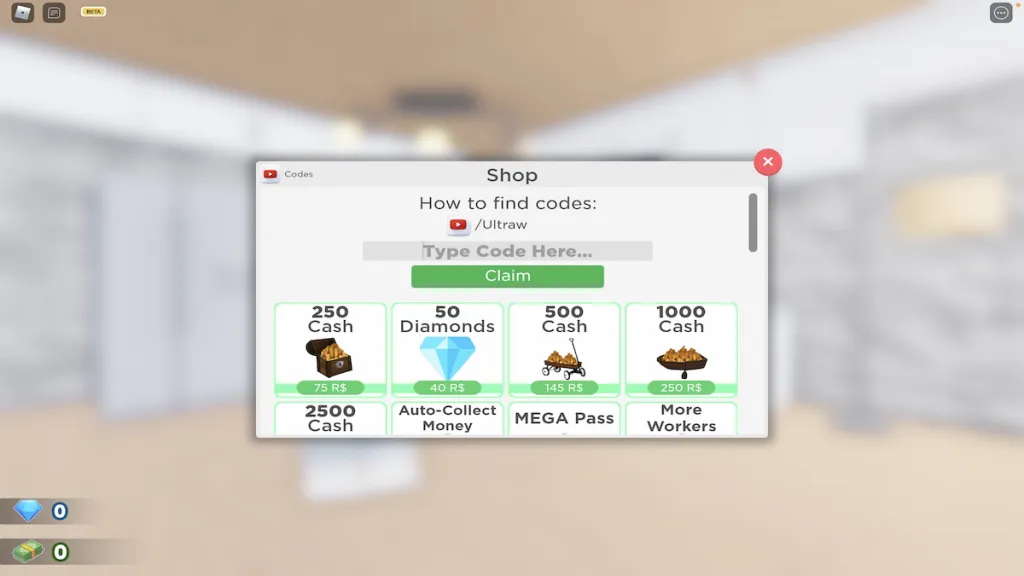 Load into Restaurant Tycoon 2 and select the Trade icon at the bottom of the screen
Click on the Youtube button
Locate the text field that says Write the code here—this is where you will copy and paste or type the codes listed above
Select the Claim button to receive your reward
How do I get more Restaurant Tycoon 2 codes?
Restaurant Tycoon 2 codes are not released very often, so it can be hard to know exactly when or where they will appear. The best way to stay up to date on codes is to check out this article, following Ultraw, the creator of Restaurant Tycoon 2, on Twitterjoining Restaurant Tycoon 2 Discord server, and by subscribing to Ultraw's Youtube channel.
Why aren't my codes working?
Not all Roblox codes are active for the same amount of time, which means some expire exceptionally quickly and can even become inactive after 24 hours or less! If you try to enter a code and it says expired code, that code is no longer active and is unfortunately no longer redeemable. There is nothing you can do to fix this problem, you just can't get the code. If you try to write code and it says invalid code, however, this means that you probably misspelled your code or didn't use capitalization correctly. If this happens, try retyping and re-entering the code one more time, making sure you copy it exactly as written!
What is Restaurant Tycoon 2?
You are in charge of running your own restaurant and making it the best place to eat in all of Robloxia! Do this by hiring cooks, training servers, and upgrading the furniture used in your restaurant. You can also upgrade your own skills to be able to serve more food, level up your employees to increase their service level, and add more decorations to raise the overall design level of your restaurant. The better your restaurant, the more successful you will be!
If you're looking for codes for other games, we've got a ton of them in our Roblox Game Codes post! You can also get a ton of free stuff through our Roblox promo codes page.