Screenshot from MyFullGames
In Dwarf Fortress, either just because you want to or because your dwarves send you a Request, you might want to build a Temple. But how do you make a temple in Dwarf Fortress, since it's not a standard building? Continue reading to find out.
Make a temple in Dwarf Fortress
To make a temple, first carve or build the area in which you want to make a temple. Remember that a temple will attract a lot of dwarves and visitors, so make sure it's big enough for at least a few dozen people. Next you need to create a zone. This can be any area, but for best results, use a meeting room, dining room, or tomb. To do this then press the Z key or select the Zone button at the bottom of the screen.
Once you have selected the zone type, highlight the selected area until you have outlined your zone that will become a temple. Once you're done, select the small + symbol on a shield. This will open a list of current locations. Temples are one type of location, the other types being taverns, libraries, town halls, and hospitals.
Related: How to start a new fortress in Dwarf Fortress
Creating a new temple in Dwarf Fortress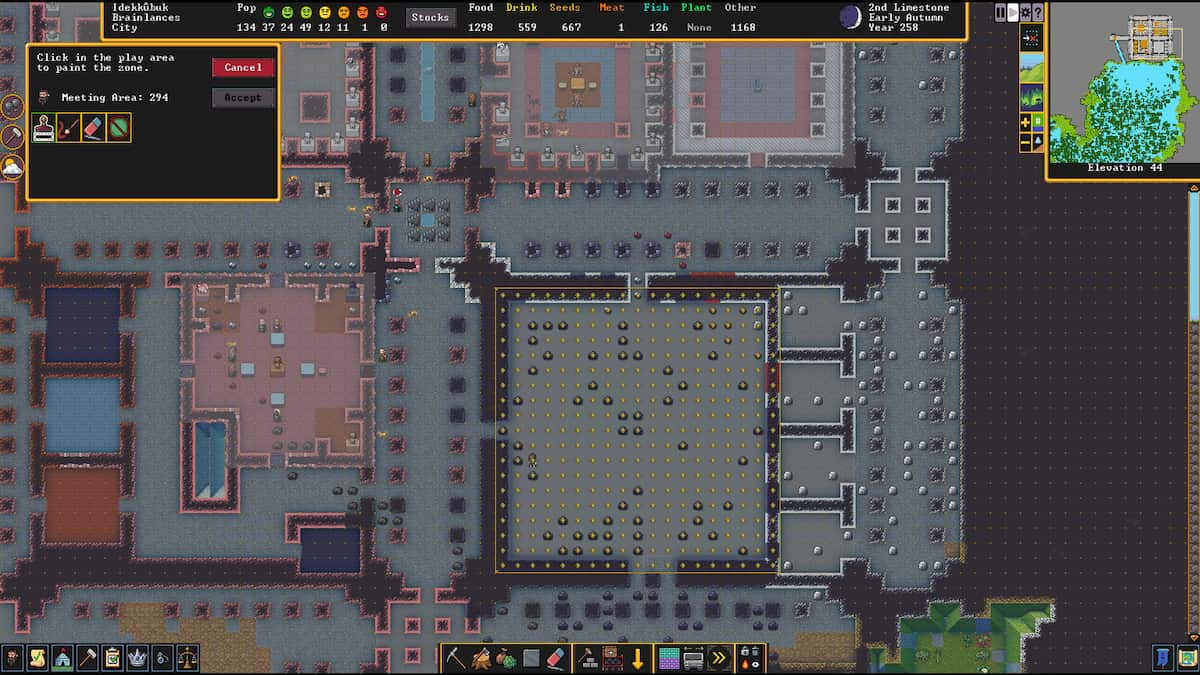 To create a new temple, select Temple at the top of the location menu to open a list of deities and churches. You can create a temple that represents a specific deity or that represents a church. Deities can have multiple churches, so make sure you select the correct one.
If you have received a Petition, you will need to remember or write down which specific church or deity the temple is for which you have been asked to build. This is because it is not accessible in UI after accepting it. This will usually be a deity or a church with a large following, in case you forget.
Once you've assigned a zone to a temple, you'll gain access to the location information screen, accessed by clicking the magnifying glass icon. This will give you the current details of the temple, such as the value, the number of musicians, and other details. This screen will also confirm if you agreed to build a temple as part of a request.
To make the location an official temple, you'll need to make sure it has items with a value of at least minus 2,000. These can be the floors, statues, altars, or anything else built within the zone. Once a temple has a value of at least 2000, a priesthood can be recognized and you can assign a priest to the temple. Only once all these steps are completed is it a fully fledged temple and all petitions are complete.
Expansion of an existing temple at Dwarf Fortress
You can expand an existing temple to make it bigger simply by adding more zones to the location. This is done on the location screen as if you were creating a new temple. However, instead of selecting Temple at the top, select the name of the existing location from the list. This is a way to expand temples into temple complexes that are also sometimes requested by dwarves. A temple complex should also have a value of at least 10,000 be recognized
For more Dwarf Fortress news, guides, and information, check out Dwarf Fortress Steam Tips, Tricks, and Hotkeys you might not know about in MyFullGames.