Image via Hero Entertainment
Eternal Evolution is a game where you can enjoy role-playing games on a casual or professional level. Since it has an idle mechanic, you can play it whenever you want, knowing that your heroes are fighting non-stop. To be successful, you need strong heroes, and Eternal Evolution has plenty of them! This part of the game has gacha elements, so you will need a bit of luck to find the best ones.
You will need as much help as possible to become as strong as possible. One of the ways to speed up your journey to the top is to redeem Eternal Evolution codes. You will often be rewarded with a Diamond, a premium currency that you can also buy in the store or receive by completing quests. You can also receive resource packs that give you several hours of experience AFK Gold, Hero, etc.
If you like idle mobile games such as Eternal Evolution, check out Idle Heroes Codes, Idle Heroes of Light Codes, Idle Heroes Simulator Codes and Idle Fighters Codes. For more guides and articles on codes, feel free to search this site for more information.
List of all eternal evolution codes
Updated December 21, 2022

Added a new code.
Eternal Evolution Codes (Working)
These are all the Eternal Evolution codes that work.
DcChristmasSeason5—Redeem for 2 Advanced Recruitment Cards, 15 Recruitment Cards, a Small Resource Pack, and 100 Gems (New)
thanksgiving DC—Redeem for a turkey consumable
Thanksgiving Day—Redeem for a turkey consumable
celebration1109—Claim this code for 1000 diamonds and a small resource pack
Eternal Evolution Codes (Expired)
These are expired codes for Eternal Evolution.
There are no expired codes at this time for Eternal Evolution.
Eternal Evolution Codes FAQs, Answered
Here is everything you need to know about Eternal Evolution codes.
How to redeem codes in Eternal Evolution
It is easy to redeem gift codes in Eternal Evolution. Just follow the instructions below.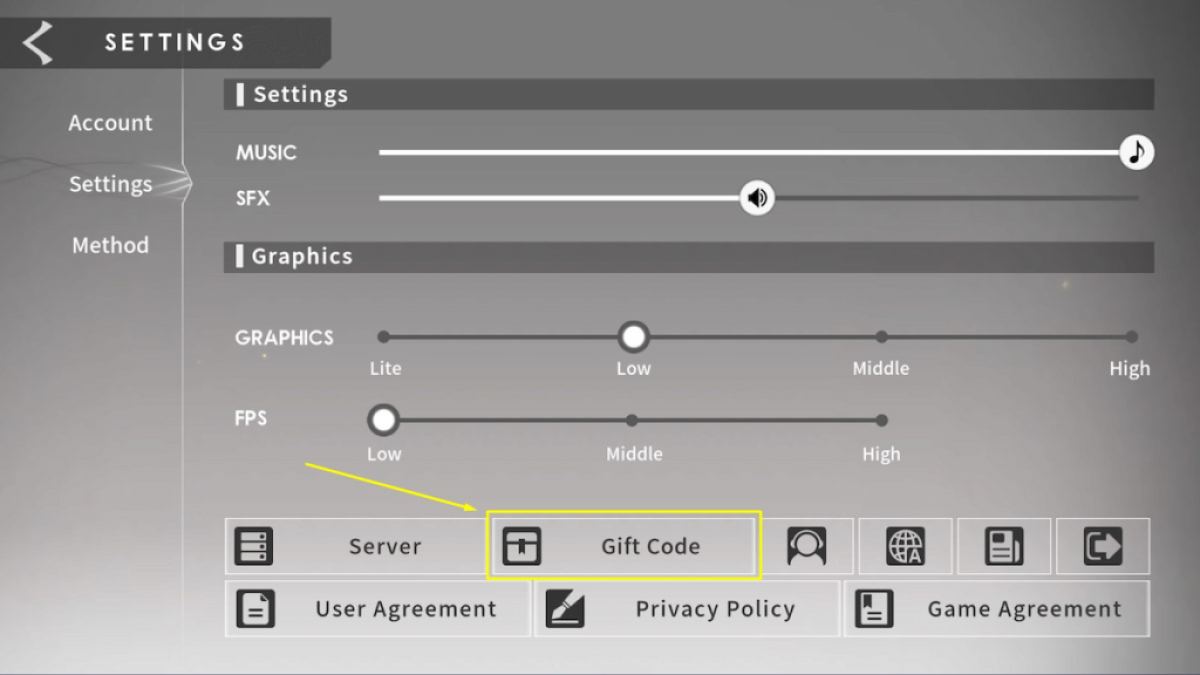 I the game, finish the tutorial.
Click on your profile picture in the upper left corner of the screen.
Select the Settings left tab.
Click on the gift code option at the bottom of the screen.
In it Enter the gift code text box, enter the code exactly as it appears in the list above.
press the Confirm to claim your reward!
How can you get more Eternal Evolution codes?
For more Eternal Evolution Codes, bookmark this page and visit often. We will update it as soon as new rewards appear. In the meantime, you can always check out the official TikTok game. @eternal_evolutionFacebook page EternalEvolutionOfficialY Eternal Evolution official server. So you will have more information about codes and raffles.
Why aren't my Eternal Evolution codes working?
Most of the time, gift codes don't work because they have expired. If that's the case, look to redeem them as soon as possible to avoid losing prizes. Another reason why Eternal Evolution codes don't work is a simple grammatical error. To avoid that, copy and paste the codes into the gift code text box.
What heroes are the most popular in Eternal Evolution?
You will gather many heroes on your idle journey in Eternal Evolution, but not all of them are equally good. There are three races in the game: Atlas, Teran, and Wenfyr. Besides that, there are six classes:
killer
Energy
Hunter
Support
Vanguard
Tank
There are several champions that you would like to have, especially at the beginning of the game. If you are lucky you will get some of these SSS heroes.
Anirudha
Crete
emma
guan yu
Luke
masrani
ravenna
What is an Eternal Evolution game?
Eteranl Evolution is an idle RPG gacha mobile game. This is a game that you can play whenever you feel like, and you don't need any special skills as the battles are automatic. Although this game is for mobile devices, you can legally download it to PC and play it through an emulator.
If you're looking for codes for other games, we've got a bunch of them in our Roblox Game Codes to post! You can also get a lot of free stuff through our Roblox Promo Codes page.