Image via Roblox RB Battles
Welcome to the Roblox RB Battles experience. Take on your friends and fellow Roblox players in over 25 mini-games and become the number one player! Level up, earn coins, and you can explore the secrets the city has to offer when you don't want to fight. Then sit back and relax as you watch your favorite YouTubers and other Roblox A-listers go head-to-head in the same challenges!
The RB Battles codes below can be redeemed for some free in-game items. Some codes will give you some Battle Coins that you can use in the shop to buy items for your character! While other codes can be used in the lobby area to get unique items. But hurry, as these codes are usually for limited-time events and rewards, and the free items won't always be available.
List of all RB battle codes
RB battle codes (working)
These are all the RB Battles codes that work.
3440r 404—Redeem this elevator code for the secret note
RB Battle Codes (Expired)
These are expired codes for RB Battles.
#RBATTLES—Redeem the code to receive 100 Battle Coins
MTFBQYA77520—Redeem code for a reward
Related: All YouTubers announced for RB Battles Season 3
How to redeem codes in RB Battles
Follow the instructions below to redeem codes at RB battles.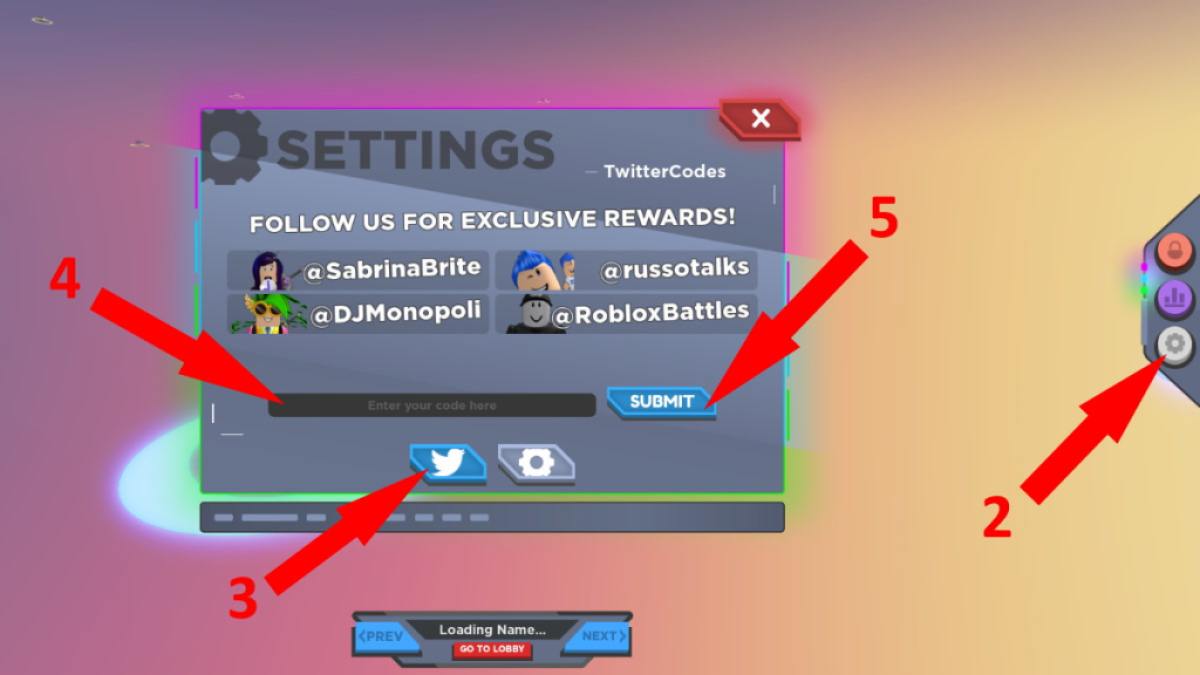 Start RB Battles on Roblox.
press the gray setting button on the right of the screen.
In the Settings popup, click the blue Twitter bird button in the background.
Write your code in the black box what does it say Enter your code here.
Click on the blue SEND button to get your reward!
How can you get more RB Battles codes?
If you are looking for more RB Battles codes, the first thing you should do is join the RB Battles Games Roblox Group. you can also follow @RobloxBattles on Twitter and join the RB Battles Community Discord Server. And if you want even more RB Battles goodness, you can join the RB Battles YouTube channel.
Why aren't my RB Battles codes working?
A typo is one of the most common reasons for RB Battles code to fail. Normally, you have to get the Roblox codes exactly for them to work, and it's easy to mistake a number for a letter or make a mistake in capitalization. We suggest that you always cut and paste the codes directly from the MyFullGames. If it still doesn't work, unfortunately, the code may have expired. This is what happens with most Roblox codes at the end. But do not worry. We're looking for new codes regularly, so check back soon for new ones.
How to get more free rewards in RB Battles
If you're currently enjoying the third season of RB Battles, here are some ways to get some of the unique items available this season:
Sabrina's Cyber ​​Crusher: Pick up purple bits of all the experiences and take them to Mr. Boringsworth in the Lobby. Earn enough, and he'll make it.
Dynamic DJ Dasher: Pick up green bits inner experiences and bring them to Mr. Boringsworth. Earn enough and he will craft the item for you.
Russo's Robotic Resonator: collect blue bits of Mr. Boringsworth's experiences in the Lobby. Earn enough and he will do it for you.
Winners Wings: Pick up the 12 badges of the challenges.
What is RB Battles?
RB Battles is a unique combination of exploration and mini-games. All the mini-games are against other players (a mix of individual and team games), and you'll automatically enter them while in 'compete' mode, with the chance to win all sorts of prizes. When not competing, players can explore the city finding colored "bits" that can be used to craft unique items, as well as discover pets and other equipment. Also, you can watch videos of Roblox celebrities competing in the same games.
If you're looking for codes for other games, we've got a bunch of them in our Roblox Game Codes mail! You can also get a lot of free stuff through our Roblox Promo Codes page. And in the meantime, check out the latest news to stay up to date on all things entertainment.