Image via Roblox Prodigy Drift
Drifting and going around corners while raising some smoke is a gear fan's dream! Now you can finally live this car tuning dream in Prodigy Drift. With only five cars to choose from, there are 20,000 variations on how to tune and build your engine to work best on the track. Are you ready to slow down and burn the competition?
The codes that you can claim in Prodigy Drift are for cash. The cash can be used to build your car by purchasing parts and tuners at the store. These codes are great for beginners who need to buy parts and stay competitive on the track.
Drifting and speeding down the tracks are some of the best Roblox experiences. It would be better if you claimed some extra money codes to get the perfect car. To get that new car, claim the codes at Roblox Drift Paradise Codes, Midnight Racing Tokyo Codes, Roblox Hot Wheels Racing Codes, Roblox RoStock Racing Codes, and Roblox The Drive Codes.
List of all Prodigy drift codes
Updated December 14, 2022

Four new Prodigy Drift codes added!
Prodigy Drift Codes (Working)
17K—Redeem for 7.5k Goosebux (New)
5 THOUSAND—Redeem for 5k Goosebux (New)
70KGROUP—Redeem for 7k Goosebux (New)
4200 PEEP—Redeem for 4k Goosebux (New)
15K—Redeem for 7.5k Goosebux
70group—Redeem for 7k Goosebux
4 peep—Redeem for 4k Goosebux
FALL—Redeem for 6.5k Goosebux
TRAILER—Redeem for 5k Goosebux
4MILL—Redeem for 100k Goosebux
Chilling—Redeem for 7.5k Goosebux
14K—Redeem for 7.5k Goosebux
13K—Redeem for 7.5k Goosebux
3500 peep—Redeem for 10k Goosebux
12K—Redeem code for 7.5k Goosebux
3 THOUSAND—Redeem code for 10k Goosebux
SOZ—Redeem code for 5k Goosebux
Prodigy Drift Codes (Expired)
11k—Redeem code for 7.5k Goosebux
10k_I like—Redeem code for rewards
2000—Redeem code for 10k Goosebux
9000likes—Redeem code for rewards
8000likes—Redeem code for rewards
7000likes—Redeem code for rewards
peep3k—Redeem code for rewards
1000—Redeem code for 10k Goosebux
TwitterFollower—Redeem code for rewards
New game—Redeem code for rewards
Christmas—Redeem code for rewards
newgoose—Redeem code for rewards
Follower—Redeem code for 2.2k Goosebux
group goals—Redeem code for 3.5k Goosebux
17M—Redeem code for 4.5k Goosebux
Hallowe'en—Redeem code for rewards
Trick or Treating—Redeem code for rewards
JULY 4TH—Redemption code for the 4th of July car and 5k Goosebux
Patience—Redeem code for 2.5k Goosebux
VIP——Redeem code for rewards
Week of Updates——Redeem code for 8k Goosebux
bye360—Redeem for rewards
GRAPHICS—Redeem for rewards
MILESTONES—Redeem for rewards
Goose—Redeem for rewards
RD2021—Redeem for rewards
CHRISTMAS—Redeem for rewards
Prodigy Drift FAQ
Here is everything you need to know about the Prodigy Drift codes.
How to Redeem Prodigy Drift Codes
It's easy to redeem codes for free rewards at prodigy drift. To do so, follow the instructions below: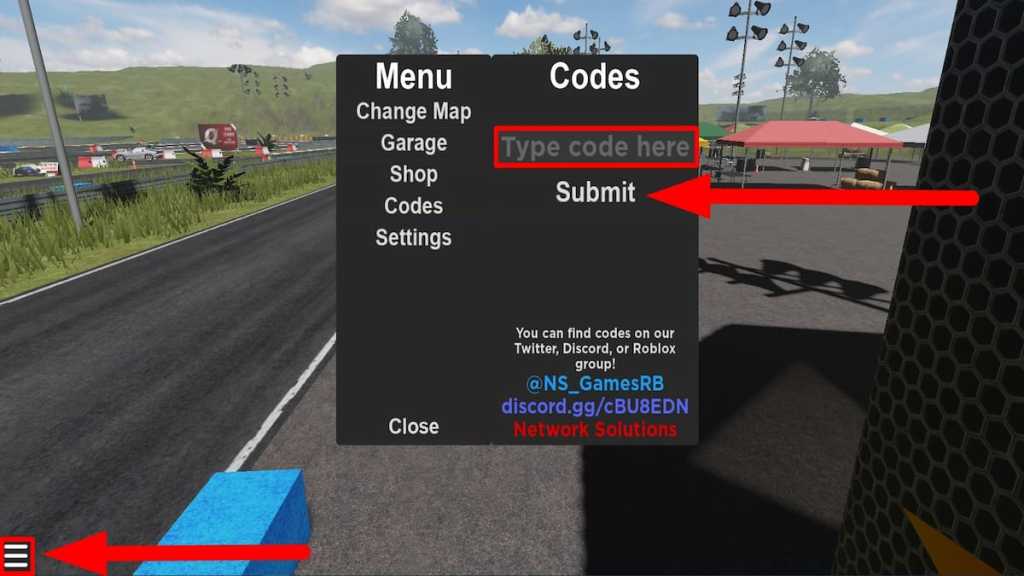 Launch Prodigy Drift on Roblox.
Click on the menu button at the bottom left of the screen.
Enter the code in the Write the code here Text's box.
Click Submit to redeem your reward.
How can you get more Prodigy Drift codes?
To get the latest Prodigy Drift codes from the developer network solutionsfollow them on @NS_GamesRB and join them in their Network Solutions Discord Server. Here at MyFullGames, we've got the latest codes from the developer, so be sure to bookmark this page and come back often to claim all your freebies!
Why aren't my Prodigy Drift codes working?
There could be several reasons why your Prodigy Drift codes are not working. When typed in the text box, these codes may be misspelled or missing punctuation marks. Please copy and paste the codes from our worklist to avoid making mistakes before clicking the Submit button. These codes may be expired; claim the codes as soon as possible to ensure you don't miss out on any developer rewards. Codes are time sensitive for most Roblox experiences and can last for hours or months.
What are the basic controls in Prodigy Drift?
To make sure you drift your best and start drifting longer than the competitors in the game, you will need to learn these basic controls to understand how the car is controlled. These are the basic controls for driving all the vehicles in the game.
Check S
w key: Throttle
S key: Brake
D key: Steer the car to the right
A key: Steer the car to the left
space bar key: hand brake
my key: shift up
Q-key: scroll down
What is a Prodigy Drift game?
Prodigy Drift is a racing game with a twist. The better you are at drifting, the higher score you will get in the game. Take on different courses and race against your friends and other players in the game. In the pit, you can chat and meet other players. With only five cars in the game, tune up the car to run exactly the way you want it to! Can you drift longer than everyone else to reach the top of the leaderboards?
If you're looking for codes for other games, we've got a bunch of them in our Roblox Game Codes mail! You can also get a lot of free stuff through our Roblox Promo Codes page.