Images of dino skins/patterns with their gene names underneath, to help you mix and match without the guesswork. Currently only few species, will gradually add more if it remains necessary.
Introduction
Pretty self-explanatory. Made this purely for my own usage after being driven absolutely insane by how little the in-game "previews" seemed to correspond with the actual results. Wasn't gonna share it but I figured someone else might find it better than nothing this early on at least.
Not sure how much I'll be able to update this guide, as it's incredibly tedious and time-consuming to put together. I suffer from painful hand/wrist issues so I'd rather not spend too much time on this rather than on actually enjoying the game. And I'm likely to get bored or fed up with the game itself before this is anywhere near complete. If anyone else wants to make a similar guide and overtake me, go right ahead! You won't be stepping on any toes.
Updates will likely be in random order depending on which species I currently have access to and personally care about seeing.
Obviously I've not unlocked all the genes, if I do I'll add 'em here. Not sure if that'd make the number order wrong on the existing images, but that shouldn't matter anyway as you can just go by the names. Please do comment if you notice I have labelled something wrong, and I will fix it.
I'll try to comment below whenever I update the guide, so you can subscribe to the comment thread if you wanna be notified of changes.
Let me know if you found this useful, or if there's a particular species you'd like me to consider next. Thanks. 🙂
Herrerasaurus
Pachyrhinosaurus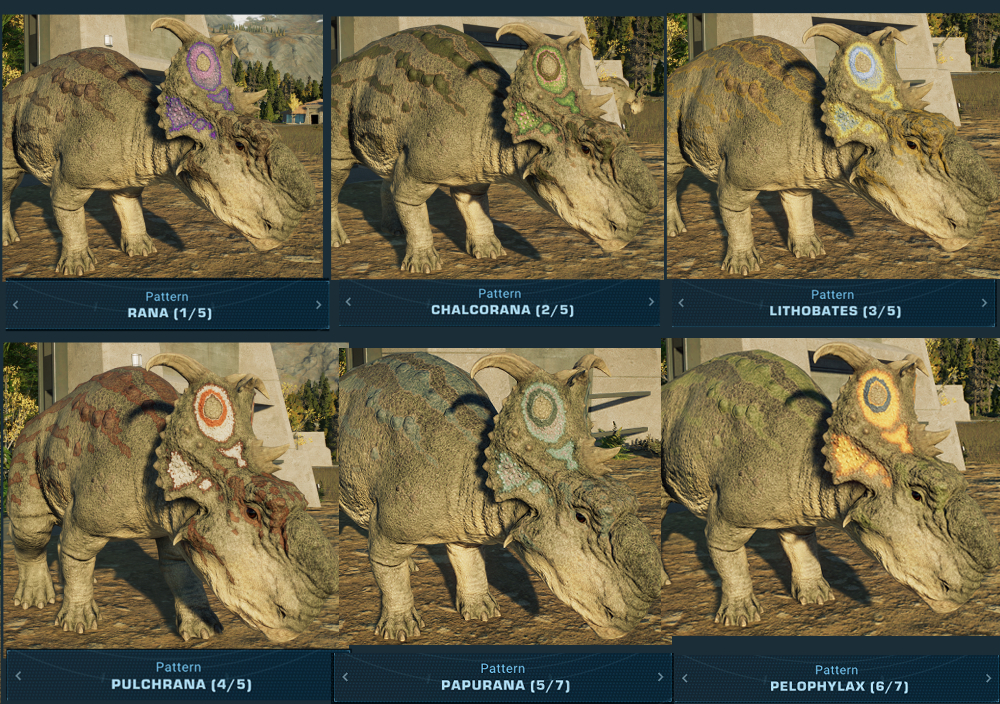 Triceratops
This is it guys!! I am sure that you will love Jurassic World Evolution 2 Dino Skin and Pattern Colors that we have shared with you. We are always open to discussion and suggestions from you. Just let us what you thought about the guide in the comment section.
Also, we would like to thank Wren. He is the one behind this wonderful guide.