Screenshot from MyFullGames
Disney Dreamlight Valley is an adventurous life simulation experience in the magical kingdom of Dreamlight Valley, where you can interact with all your favorite Disney characters. You can complete many fun activities such as decorating your home, designing clothes, or even cooking some unique Disney-themed recipes. There are plenty of recipes to make, from some of the best five-star recipes to a host of recipes beyond. This seared rainbow trout only requires three ingredients and is great for all your Valley needs.
Dreamlight Valley Sealed Rainbow Trout Recipe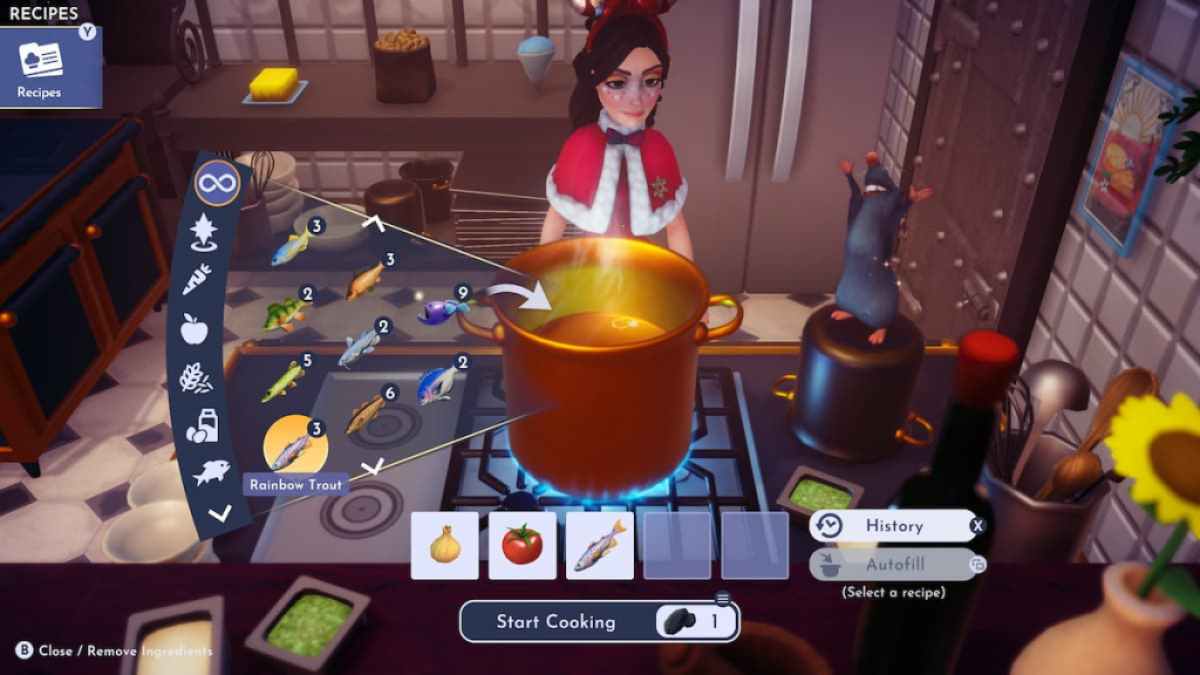 Fishing is a great activity to do in the Valley that is especially useful for creating delicious seafood dinners, like this seared rainbow trout. It's a three-star recipe, which means you'll need three ingredients. Fishing is also free, but the others will cost you some Star Coins if you don't already have them stored.
Seared Rainbow Trout can restore up to 889 energy when eaten, or you can sell it at any of Goofy's stalls for 338 Star Coins. Don't forget that you can also gift it to any of the characters in the Valley to boost friendship, especially if it's their favorite gift of the day or their order at Chez Remy. Here is everything you will need:
Rainbow trout x1
Onion x1
Tomatoes x1
Related: How to Make Poached Basil Butter Sturgeon in Dreamlight Valley
Where to get ingredients for Seared Rainbow Trout in Dreamlight Valley
Time to go fishing! You will have to go to a specific location to fish for this rare rainbow trout. It might take a bit of patience, but you're guaranteed to find one after some searching. You may have already stocked up on the other two ingredients from your garden, but if not, you can hit some Goofy stands and buy them. You can also check out Wall-E's Garden, which may save you some money. This is where you can find everything you need:
Rainbow trout: Prado Pacífico or Bosque del Valor, from white and blue fishing spots
Onion: Forest of Valor, purchased from Goofy's Stall for 225 Star Coins (50 Star Coins per seed)
Tomatoes: Dazzle Beach, purchased from Goofy's Stall for 33 Star Coins (8 Star Coins per seed)
You can then head to any cooking station with your ingredients to make this tasty dish. It's great for restoring your energy, boosting your friendships, or even selling it for some extra Star Coins. Once it's in your recipe collection, you can easily re-create it in the future.
Looking for more Disney Dreamlight Valley recipes? MyFullGames has plenty of tips and tricks to get you started, like All the Disney Dreamlight Valley Holiday Recipes or How to Make a Disney Dreamlight Valley Green Salad!