Whether you're tired of the same old battle royale experience, or you're looking to practice your game in a simulated environment, we've got a list of the best Fortnite Creative Map Codes for you and your squad! These maps feature a wide variety of things you can do, whether it's practicing your aim or just having fun with your friends in a less competitive situation.
Epic has done a great job expanding the game's reach of Fortnite. While the mainstay is still Battle Royale, you can now play many different game modes in Creative. This gives you a lot more to do when you play the game. Epic seems to be growing more and more into this part of the game, which has allowed players to flex their creativity in a variety of ways.
We chose the best maps based on their popularity within the Fortnite community, the quality of the design, and the unique features that make the game special. Since Creative Mode is constantly changing, we'll be providing regular updates to this list so you'll have plenty of new games to enjoy and different game modes to experiment with.
Best Fortnite Creative Map Codes
Poppy Playtime Series Creative Map
poppy playtime Chapter 1: 0887-0268-5651
poppy playtime Chapter 2: 8750-4231-5841
As the name suggests, Poppy Playtime Series is a recreation of the famous horror puzzle game Poppy within the Fortnite universe. Similar to the original game, the series has several creative puzzles underneath a horror-driven story that players must solve using the equipment and props at their disposal. The other best part of the room is that the puzzles scale perfectly in difficulty as you progress through the main quest line instead of throwing challenges right off the bat. We highly recommend you to try it out if you love scary or puzzle games.
healthy home lg
LG Healthy Home map code: 0850-7901-9021
Have you ever tried product showcase within a game? Well, the LG Healthy Home Map Room fulfills that dream by allowing you to see and use most LG products within Fortnite. Along with virtual purchases, the map room also offers a point-and-capture shooter game mode. The only twist is that the accessories necessary for fighting will be removed from the LG product line. For example, if you want some Chug Splash to increase your shield meter, you need to find and use the LG washer. It is a unique and well thought out concept that deserves everyone's appreciation.
Ghost Desert Racing 4D Creative
Ghost Desert Race 4D Map Code: 6354-4002-9490
Racing the in-game cars or bikes has always been a fun side hustle in Fortnite. Developer Kalel has taken this fun little activity and made it the focus of his latest Ghost Desert Race 4D map. As the name suggests, it is a racing game mode that allows you to race against eight players using any vehicle in a desert environment. Also, instead of using the default timer-based system found in other Fortnite racing games, Ghost Desert Race 4D follows a unique format of rounds that makes the game more interesting and unique from others.
Box Fights and Zone Wars
Box Fights and Zone Wars Map Code: 9228-8994-1362
This map combines a variety of gameplay mechanics and the result is a game that is sure to satisfy any type of gaming mood you may have. As a popular Boxfight and Zone Wars map, it doesn't matter if you're playing for the thrill, to improve your skills, or for a fun couple of hours taking out your friends. On this popular map, you fight round after round of intense melee combat! Best of all, it's one of the most popular box fight maps, so you're not likely to join an empty game.
Ultimate Goal Training Course
Ultimate Aim Training Course Map Code: 2483-7229-2827
This map has stood the test of time and managed to be one of the best marksmanship trainer maps since Fortnite Chapter 1. It is consistently and frequently featured in Fortnite's Creative Discovery and Explore tabs, proving its value among the community. . It features a masterfully crafted training mode for several different weapons, and is often updated to accommodate newer weapons!
Related: Trappers vs Runners Fortnite Map Codes (January 2023)
Pandvil Build Fights (1v1/FFA)
Pandvil Build Fight Map Code: 7555-7193-2726
Build Fight maps are rarely better than Pandvil Build Fights. This map has appeared on our list of the best compilation fight maps as a vanilla-style take on the genre. It includes all the useful things you could want in an edit map, but doesn't overwhelm you with too much content. It helps that this is one of the most popular Build Fights maps, so you'll always have someone to play against!
Percy's Editing World
Percy Edition World Map Code: 1430-2310-1162
Percy's Editing World serves as a one-stop editing map for players who want to hone their editing skills in a variety of settings. You are unlikely to get bored and look for other edit maps as there are multiple levels for you to master regardless of your skill level! Noob or Pro, you will find a way to improve here.
one shot gun game
One Shot Gun Game Map Code: 0345-9115-1287
This gun game focuses on high-intensity instant reactions and is definitely a fast-paced take on the gun game genre. If you don't have impeccable reaction times and aren't quick on the trigger, you probably won't get far. Still, even for most of us who haven't made it to the latest gun, you'll find plenty of fun to be had when you jump into the fray of One Shot Gun Game.
Snipers vs Runners Dollhouse
Code: 2301-1112-2208
Snipers vs Runners Dollhouse looked like it was going to be a one-hit wonder when it initially released, but now it stands as one of the most played Snipers vs Runners maps of all time. Despite its simple design, it has been updated to include fun new features that keep fans of the genre coming back for more.
Related: Best Fortnite Puzzle Map Codes (January 2023)
VHS project
VHS Project Part 1 Code: 0444-2689-6036
VHS Project Part 2 Code: 2369-2784-6379
Horror stories rarely end after the first part, and we're thankful that the VHS Project has followed the trend. This terrifying take on the horror map genre is considered by many players to be one of the most amazing and surreal scary maps available. It is recommended that you play this game with your headphones on and in a dark room if you want to add to the atmosphere.
How to use a creative code
Once you load the game, you will be given the three options on what you want to play (Save the World, Battle Royale, and Creative). Click the creative option and then click PLAY then CREATE (don't start a server if you want to play alone).
Once it's loaded, you'll see an Orange Rift that will take you to islands where you can create custom maps. We don't want this right now, so look for the featured portals. Fortnite now places you in a custom portal area, so you may need to search around for it a bit. Find the portals with the console in front of them and interact with one.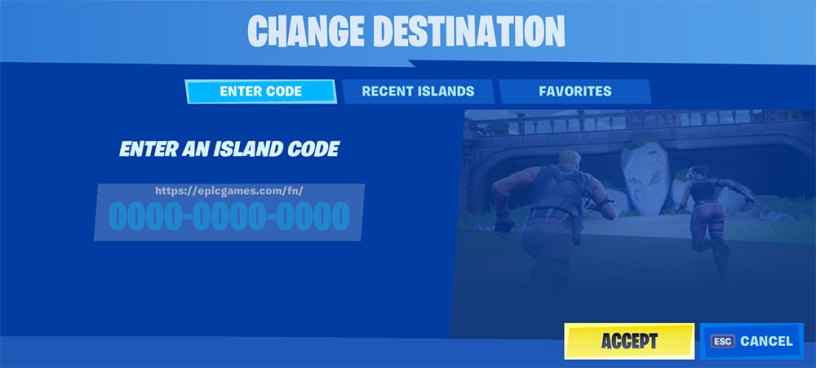 From here, you can select one of the codes you've added to your favorites, or you can paste a code you have at the end of the URL. Click "OK" and the island of your choice will load. You can then run to the rift and it will transport you to it!
For more Fortnite News and Guidescheck Best Fortnite Skins Ranked and Fortnite Leaked Skins & Cosmetics in MyFullGames!